Description
Workshop bundling machine for small packets: ATTALINK-6AP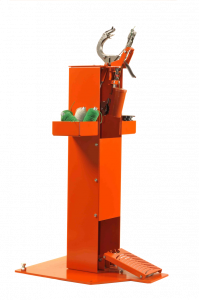 This machine features an ATTALINK-6A tying unit mounted on a base, and a foot control pedal. The operator is free to use both hands to prepare the product for bundling and position it in the tying unit. A simple push on the pedal and the tie is automatically completed.
Thread tension is adjustable.
This fully mechanical unit is capable of tying packets up to 6 cm in diameter.
An optional table attaches to the base to facilitate handling and preparing the products for bundling
For preparing bouquets and small packets, VIGOUROUX has designed the ATTALINK-6AP with a thread reload system
After each closing/opening cycle, the elastic remains stretched between the two arms of the tying machine; the operator releases the product which is then attached to one side and there is no need to reload it for the next tying cycle.
This model is therefore particularly suitable for use when the elastic tie can be positioned close to the end of the bundle which can then be released laterally (as for a small bunch of flowers for example).
Technical stuff
Max binding diameter
60 mm
Height of the table
890 mm
Binding system:
Fil élastique serti par une bague
Option 1
Table inox 400 x 1000 mm
Option 2
Automatic reload system