Natural or green standard thread
Standard thread for classic ties.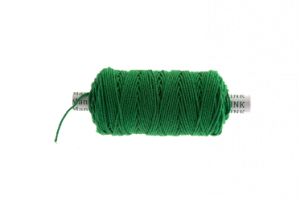 This is the overused Thread, perfect for main applications
Resistant to approximately 3 kg, thanks to its photo-degradable rubber, this is suitable to most kinds of seasonable tying (climbing plants, fan trees, raspberry canes, fruit tree grafts, etc...) :
- Outdoors, if it is still there after a year, the rubber will have partially deteriorated and the tie will be weaker.
- In an interior environment, no significant deterioration will occur within one year.
Good degradability is ensured by the natural rubber core in a cotton sheath.
Colours available in stock:
- natural: better value than dyed colours
- green: for ornamental plants, an even less visible tie.
Approx. length per bobbin: 64 m.
Recommended aluminium reel for crimping: Standard metal