Description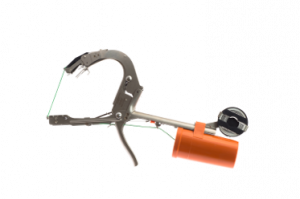 This model is specially designed for preparing small bouquets or small packets (maximum diameter: 6 cm).
For preparing bouquets and small packets, VIGOUROUX has designed the ATTALINK-6AR.
After each closing/opening cycle, the elastic remains stretched between the two arms of the tying machine; the operator releases the product which is then attached to one side and there is no need to reload it for the next tying cycle.
This model is therefore particularly suitable for use when the elastic tie can be positioned close to the end of the bundle which can then be released laterally (as for a small bunch of flowers for example).
Technical stuff
Max binding diameter
60 mm
Ready to use weight
Approx 630 gr
Binding system
Ring-crimped elastic ties
Delivered ready to use with carrying case